About Central One Federal Credit Union
Unlike a bank, Central One is a not-for-profit financial institution. 
Central One is a full service, not-for-profit, cooperative financial institution serving Massachusetts residents since 1952. We are member-owned, which allows us to reinvest our profits into providing you with better rates and technology that fits your lifestyle.
Founded as an occupational-based credit union for the New England Electric System employees, Central One Federal Credit Union has grown into one of the largest federal credit unions in central Massachusetts. 
Our charter was changed to Community-based in 1998, paving the way for enhanced products and services, branch expansion, and allowing us to assist more members, and increased reinvesting support in our communities. Our team takes great pride in providing World Class Service to all our members and has earned an impressive 98.7% Satisfaction Rating. 
In March of 2021, our field of membership expanded to anyone who lives, works, worships, volunteers, attends school, or owns a business in all of Worcester County as well as parts of Middlesex and Norfolk counties. Also included are family or household members of existing members, and businesses or other legal entities located within this area. For a list of towns we serve, click here.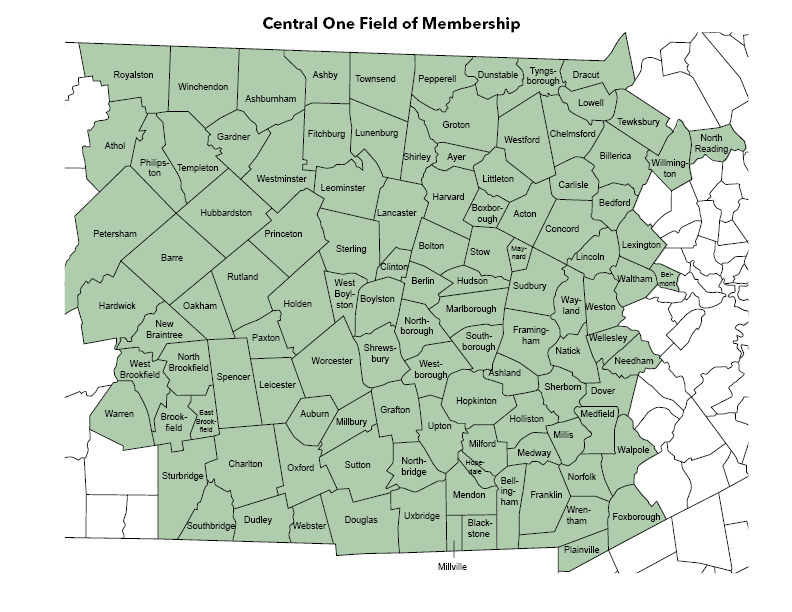 Central One offers a full range of personal and business deposit and lending products with access to your accounts 24/7 through online and mobile banking apps. You are also welcome to visit any of our Branch locations or call our Member Support Center.
As a full-service credit union, Central One offers all of the personal and business products and technology innovations you'd expect from a larger national financial institution — but with local decision making and a focus on improving our members' lives. 
Meet the Board
Board of Directors
Our Board of Directors is made up of nine people who have been elected by the membership to serve. Each Board member volunteers their time to provide leadership and direction to the credit union.
Anthony Pini, Chairman
Jeffrey M. Pond, Vice Chairman
Charles M. Giacoppe, Secretary
Christine A. Baril

Stephen Caravella
Deborah J. Drew

Scott McCarthy
Thomas J. McCarthy
Robert H. McLaren
Associate Directors
Supervisory Committee
The Supervisory Committee is the 'watchdog' of the credit union. This Committee plays a critical role in safeguarding the credit union's assets by ensuring adherence to established internal controls, ongoing examination of accounting records, transactions and loan documentation and overseeing the annual audit. The members of the Supervisory Committee are appointed by the Board of Directors.
Gregory J. O'Connor, Chairman
Christine A. Baril

Elaine M. Racine

Management
| | |
| --- | --- |
| President/CEO | Devon Lyon |
| Chief Financial Officer | Joseph Rollo |
| Senior Vice President of Lending | Jeffrey Dunn |
| Senior Vice President of Operations & Information Systems | Karen Mills  |
| Senior Vice President of Retail Services | David Kaiser |
| Vice President of Administration & Training | Kate Shaw |
| Vice President of Commercial Lending | Michael Murphy |
| Vice President of Information Systems & Technology | Neal Reardon |
| Vice President of Human Resources | Kerry Crutchley |
| Vice President of Member Support | Christine Bates |
| Vice President of Retail Services | Owen Russell |
| Senior Director of Facilities | William Hamilton |
| Director of Card Services | Eva Polymeros |
| Director of Compliance and Security | Jill Rogers |
| Director of Consumer Lending | Kellie Drew |
| Director of Marketing | Susanne Drugge |
| Director of Residential Mortgages | Deborah Cormier |
| Director of System Support | Chuck Frail |
| Network/Server Manager | Lawrence Goldberg |
| Senior Project Manager | Sandra Dunay |
| Accounting Manager | Vanessa Marchand |
| Data Operations Manager | Mandy Burke |
| Electronic Services Manager | Jen Ogle |
| IT Project Manager | John LeBlanc |
| Member Support Manager | Tina Kukla |
| Branch Manager, Auburn | Bryan Stockhaus |
| Branch Manager, Milford (Coming Soon) | Nick Mazzarini |
| Branch Manager, Northborough | Andri Jashari |
| Branch Manager, Shrewsbury | Heather Forchilli |
| | Debra Paciello |