GAP Insurance




What Exactly is GAP?
Guaranteed Asset Protection (GAP)
When you buy or lease a new car or truck, the vehicle starts to depreciate in value the moment it leaves the car lot. In fact, most cars lose 20 percent of their value within the first year. Standard auto insurance policies cover the depreciated value of a car—in other words, a standard policy pays the current market value of the vehicle at the time of a claim.
For example, when you finance the purchase of a new car and put down only a small deposit, in the early years of the vehicle's ownership, the amount of the loan may exceed the market value of the vehicle itself.
In the event of an accident in which you've totaled your car, GAP insurance covers the difference between what a vehicle is currently worth (which your standard insurance will pay) and the amount you actually owe on it.  The difference between this value and the balance is the GAP.
 SITUATION:  Your vehicle is wrecked or stolen and not recovered. The value that your insurance company places on your car is much less than the outstanding loan balance. You are responsible for repaying the GAP which can be thousands of dollars.
SOLUTION: GAP Protection PLUS! For a very small charge we will 'waive' our rights under the loan contract to collect this Gap amount. GAP Protection PLUS! will pay off your remaining loan balance including your insurance deductible and provides $1,000 toward the replacement of your vehicle.
Gap Protections PLUS! will pay that balance and more!
GAP Benefits
Gives you peace of mind by avoiding financial uncertainty after a traumatic loss.

Allows for a "clean slate" when financing your next purchase

Protects your investment

The cost can be added to your loan

Provides a $1,000 head start toward replacing your vehicle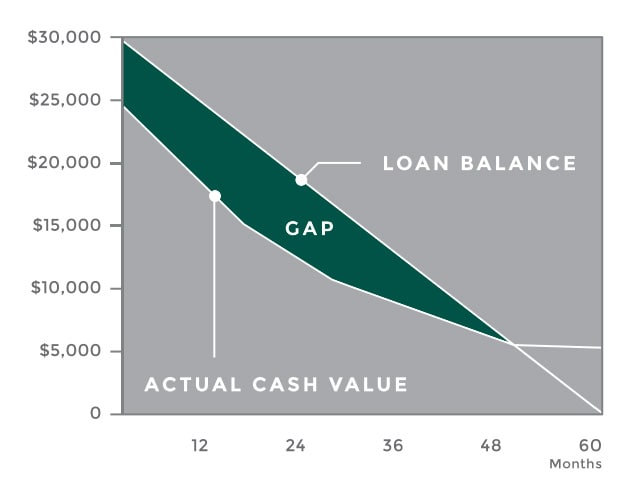 How GAP Protection Works

Loan Amount:
$25,000
Term:
72 Months
Loss Date:
36 Months
Loan Payoff
$14,000
Actual cash value of vehicle
$10,000
Primary Insurance Deductible**
$500
Primary Settlement
$9,500
Potential Out-of-Pocket Expense
$4,500
GAP Protection Payment
$4,500
Gap Protection PLUS!
Vehicle Replacement Benefit
$1,000
Gap Protection PLUS! Total Benefit
$5,500
* Subject to terms, conditions, and limitations. Certain exclusions apply. You may be responsible for any past due payments and/or fees.  Please refer to your Gap waiver for complete details.
** This represents your deductible.